The AMR Accelerator: A New Public-Private Collaboration to Tackle Antibiotic Resistance Together
The AMR Accelerator Programme connects seven projects launched by the Innovative Medicines Initiative (IMI) during 2019 and 2020. With more than 50 partners and 295 million Euro of dedicated funding, the Programme is united by a common goal to develop new tools and therapeutics to fight resistant pathogens. A wide-ranging series of antibacterial programmes will advance the pipeline of antibiotics targeting Mycobacterium tuberculosis, nontuberculous mycobacteria and Gram-negative bacteria. 2021 will be an exciting year with the start of several First-In-Human studies, as well as the potential addition of two new Accelerator projects.
The AMR Accelerator currently has seven projects: AB-Direct, COMBINE, ERA4TB, GNA NOW, RespiriNTM, RespiriTB, and TRIC-TB. These public-private partnerships are funded by IMI with matched in-kind contribution from EFPIA companies, and complement and build on the capabilities of the IMI New Drugs for Bad Bugs (ND4BB) Programme. The AMR Accelerator will address many of the scientific challenges of AMR.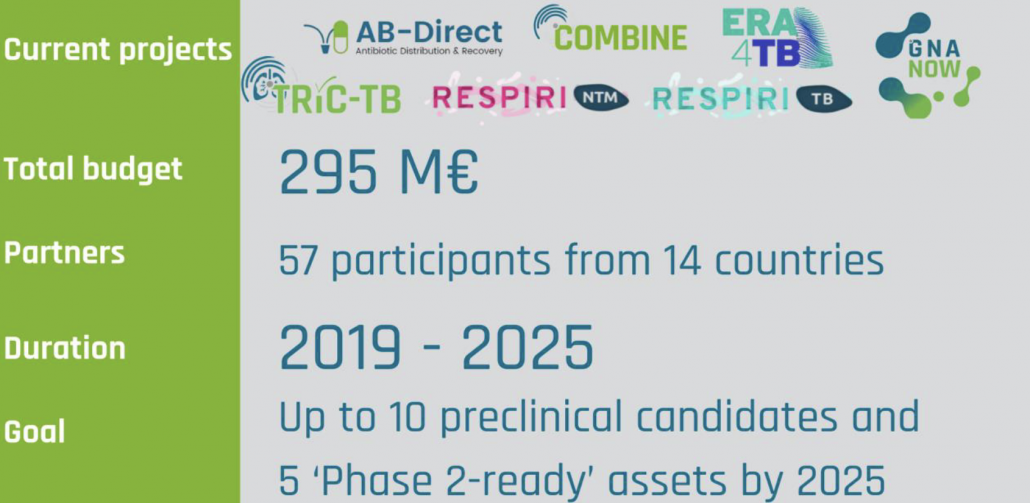 The AMR Accelerator Programme is composed of three Pillars:
The

Capa

bility

Building Network

(

COMBINE

project

)

provides coordination and support

across the Accelerator, in addition to its

scientific

g

oals to improve

and standardi

s

e

animal models

used in AMR research

, and

optimise

the design of

clinical trial

s

.

The

T

uberculosis Drug Development Network

, encompassing the

ERA4TB

project

,

is

working to accelerate the development of new treatment regimens for tuberculosis.

The

Portfolio Building Networks

, integrating

RespiriTB

,

RespiriNTM

,

TRIC

–

TB

,

GNA NOW

,

and

AB

–

Direct

projects

,

are

set up to

support collaborative efforts to

discover and

advance

new antibacterial assets

.


The recently published AMR Accelerator portfolio pipeline provides an overview of the 13
antibacterial programmes and where they stand in terms of novelty and development stage. If successful, projects in the Accelerator are expected to deliver up to ten new preclinical
candidates and five 'Phase 2–ready' assets by 2025.
Ander Karlén, Professor at Uppsala University and COMBINE Coordinator: "It is very exciting to see this large number of partners combining resources and experience to deliver these very important goals".


Concrete activities of the AMR Accelerator since start include:
A virtual Cross

–

Pillar meeting, bringing together representa

tives from all projects to

exchange information, explore synergies, and discuss challenges.

A series of

COMBINE

webinars and the launch of an

open call for preclinical and clinical

data sets from the study of prevention or treatment

of bacterial infections

.

Under the

Respiri

projects, nine research teams

and Janssen Pharmaceutica

have

come together to search for new weapons in the fight against

mycobacterial

tuberculosis

and

non

–

tuberculous mycobacteria

.

Swiss pharmaceutical company, Bio

V

ersys, and

GlaxoSmithKline (

GSK

)

are

co

–

leading

the

TRIC

–

TB

project

which

kickstarted the development of

a novel compound aimed at

overcoming the resistance against

e

thionamide

and prothionamide

for the treatment

of

tuberc

ulosis. The candidate

has recently entered

into Phase 1.

I

n the t

wo

–

year long

AB

–

Direct

project, GSK, together with project partners, initiated

work on

a programme investigating tissue distribution of gepotidacin,

which

will be

investigating in a clinical Phase 1 study, sponsored by Inserm, to start early in 2021.

Gepotidacin is currently in Phase 3 development by GSK as a potential treatment for

uncomplicated urinary tract infection and uncomplicated gonorrhea.

I

n the T

B

–

dedicated network, the

European Regimen Accelerator for Tuberculosis

(

ERA4TB

)

has

already

endorsed ten specific Asset Progression Plans for six different

compounds which are in progress, two already in Phase 1 studies.

In addition,

the

Gram

–

Negative Antibacterials NOW

(

GNA NOW

)

consortium successfully

managed to keep on track its three programmes

owned by the biotech companies

Evotec and Nosopharm

in spite of the drug development challenges posed by the

COVID

–

19 pandemic.
Pierre Meulien, IMI Executive Director: "The AMR Accelerator shows how collaboration and solidarity allow researchers to contribute to the elimination of antibiotic–resistant tuberculosis and AMR. This is particularly important now, in the midst of the COVID–19 pandemic, as AMR research is essential to reducing the burden of secondary bacterial infections in the future."